How AWAL is contributing to the growth of digital music
| | |
| --- | --- |
| ✅ Paper Type: Free Essay | ✅ Subject: Music |
| ✅ Wordcount: 2408 words | ✅ Published: 6th May 2021 |
Artists Without a Label (AWAL) has offered its label services to artists around the world. In the 23 years since formation AWAL has competed against other music aggravators and traditional record labels to work alongside stakeholders to grow the artist direct market share. Despite the increase in new technology and rapid growth of competitors AWAL has managed to use its three-tier system to offer a unique service for artists. This essay will seek to highlight the reasons as to how AWAL is contributing to the growth in digital music.
Get Help With Your Essay
If you need assistance with writing your essay, our professional essay writing service is here to help!
Essay Writing Service
AWAL was founded in 1997 by music producers Kevin Bacon and Johnathan Quarmby as a result of mistreatment from their record label Polydor (Lindvall, 2010). As the music industry began to adapt to the digital age in the late 1990s, labels were met with increasing pressure to upload their current and past catalogues of music to online distributors. This created a problem for a lot of artists who had signed their recording contracts in previous years as the labels had never anticipated for digital music to become popular so fast and as a result of this the contracts never included information about this. When Bacon approached his label to ask about payments made on digital sales he was shocked with the response. As digital sales were never included in the original terms of the contract, a new rate of 8% royalty per digital sale was given to Bacon. At the time of writing this essay the reasons behind these rates still have not been disclosed by Polydor. Bands typically get on average an 18% royalty rate on physical records which is a notable difference to the rate they get for digital sales. After getting together and discussing their joint frustration Bacon and Quarmby eventually created AWAL. A venture that would help artists self-direct their career without the need for a label, avoiding all the issues the pair and many other artists had encountered throughout the rise of digital music.
In order for AWAL to continue to grow it was acquired by Kobalt music group. Kobalt is an independent publishing company founded in 2000 by Willard Ahdritz with similar goals to AWAL, the company was set up the ensure creators were always put first (Music Business Worldwide, 2012). The deal between Kobalt and AWAL created big opportunities for both parties. Kobalt was able to obtain access to a huge distribution network of over 200 digital sales platforms including Spotify, iTunes and Apple music. In return AWAL would receive funding and support from Kobalt and their expertise of the industry. The acquisition was met with positive feedback, Denzyl Feigelson an AWAL ambassador added "This collaboration allows artists to focus on their craft whilst having the support of appropriate, customised tools and services. Our community is now in the best position to be in control, artistically free with the direct conduit to fans and consumers.". As of 2020 Kobalt represented 40% of the top 100 songs and albums in U.S and U.K (Kobalt Music, 2020). In late 2018 Kobalt increased its funding to AWAL and invested a further $150 million to develop new technology and products for artists to use (Billboard, 2020).
What awal does
In the recorded music industry, there is a huge variety of record deals an artist can sign. Some include the 360 deal which includes a publishing deal that is usually affiliated with the record label. This sort of deal is good for artists starting out but has its downsides, as part of the deal the label will take a percentage of the entire artists brand such as merchandise sales, touring, and sponsors. This sort of deal is appealing to artists as it gives them a lot more opportunity and support from the label but the risk losing income` due to the record label taking a huge cut (Gaille, 2019). Another deal would be an exclusive deal, this deal is most popular and is the best investment for a label to make. As a result of this deal the label will own all rights to the recordings and master recordings. The label will give the artist lots of different options but in the majority of cases these will always be in favour of the label. The majority of the deals will see artists earn around 14-18% royalties per song (Salmon, 2007).
AWAL works with its stakeholders to build long-term music careers for musicians and does so by providing label support you would usually receive from a traditional record label but with complete freedom (AWAL,2020). Taking only a 15% cut of the work and allowing the artist to completely own all master recordings this much more appealing to smaller artists starting out. The service is split into three levels that are AWAL Core for artists that are just entering the industry and need assistance with distribution, analytics and A&R discovery. Being accepted on to this level you will have the ability to distribute your music to over 200 territories as AWAL distributes to every major digital streaming platform. AWAL + which is for artists that the company believe are on the verge of success and have achieved some milestones already, an example would be Kyle Dion who managed to achieve 2.3 million views on a YouTube cover of Frank Ocean's "Thinking About You" (Billboard, 2020). At this stage AWAL starts to work with other industry stakeholders such as managers and lawyers to give you extra supporting including a dedicated representative who will guide you through releases and campaign strategies. Finally, AWAL recordings the global record label that lets you customise your own recording deal. Just like the previous levels not everyone is accepted, to be considered you would have to have achieved some big career milestones. An example would be one of the few artists currently on the programme Kim Petras. At over 3 million monthly listeners and a hit single with over 40 million listeners on Spotify, she is one of the highest achieving artists ever supported by AWAL (Spotify, 2020). At this level you are granted funding for projects along with a dedicated marketing team who help you stick to a budget while also being able to create your own work and own 100% of the masters.
Technology
In the last decade sales of digital music and streaming revenues have saw an incredible rise reaching $11.9 billion in 2019 a rise of 23.8% since 2018 (Mulligan, 2020). Not only that but there has also been a huge rise in independent distribution. As these numbers continue to rise the artists direct market share of the global recorded music business has had major growth. Although major labels still retain 67.5% of the overall market artists direct now makes up for 4.1% of the total, a 1.7% increase from 2015. As AWAL continues to add artists to their catalogue this number is likely to keep rising (Mulligan & Jopling, 2020). A survey conducted by MIDIA to research how independent artists released their music in 2020 found that 74% of respondents released their work without a record label.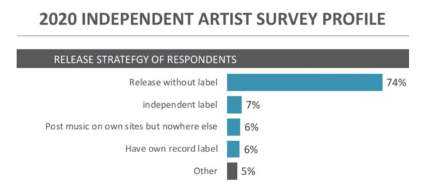 As the technology advances making it easier for artists to turn to online distributors as an alternative AWAL faces the threat of competition over taking their opportunity to continue to grow as a company. Although their model is a little bit different to other distributors the competition is still there. TuneCore another popular online distributor that has generated over $1.09 billion in revenue for the artists who have used the service essentially does the same job as AWAL without taking any commission on your work (TuneCore, 2020). Although this would be more appealing to smaller artists as the long-term result would be better, Tunecore requires an upfront fee something AWAL does not require. In addition to this anyone can send their music to TuneCore meaning TuneCore does not have the time and resources to take care of each artists individually. Another threat AWAL faces is the rise of direct to fan distributors. Bandcamp believes that "music is an indispensable part of culture, and for that culture to thrive, artists—no matter the size of their audience—must be compensated fairly and transparently for their work." (Bandcamp.com, 2012). Although they both have similar missions Bandcamp has a different business model. Instead of sending the music to digital sales platform it uses its own site to distribute the music. It also allows stakeholders to sell merchandise on their site taking only a 10% commission, a fee that is lower than AWAL. The service is also free to use and anyone can sign up to it without having to go through the rigorous application process AWAL requires.
Taking a deeper look at AWAL's unique business model a variety of strengths, weaknesses, opportunities and threats become more apparent as you go deeper. Taking only 15% of commission from an artist on their release no upfront fees and complete ownership of the masters AWAL has the upper hand on its competitors including many of the major record labels such as Sony BMG, Universal Music Group and Warner Music Group. The trust in these major labels are also decreasing as Ditto Music CEO Lee Parsons explains "People know not to trust the music industry anymore," (Parsons, 2018).
 Their biggest weakness would be their exclusivity to the platform. All decisions are made by humans rather than online algorithms which means some artists may slip through the gaps if the person deciding their fate has personal preferences when it comes to the genre of music. Not only that but due to being a completely commission-based model there could be favouritism to more popular artists. There are also many opportunities for AWAL to grow as a business and adapt their current business model to the growing market of independent artists looking to release without a label. At present time artists interested in AWAL music already have a engaged fanbase (AWAL, 2018). Adapting their current three tier model and creating a fourth tier that doesn't require an artist to have any fan engagement may see more artists able to use the service. As a result, the service will generate more income to invest in artists and the popularity of the service will rise with potential to overtake its competition. The main threat for AWAL at this current time is the competition. As reported in the IFPI global music report for 2019 streaming revenue has dramatically overtaken physical music sales since 2001 with physical sales account for less than $5 billion of the total $20 billion generated by the music industry in 2019 (IFPI, 2019). As a result of this many more online music aggravators are appearing making it harder for AWAL to stand out and could result in the company losing support from various stakeholders.
To conclude, since AWAL's formation in 1997 the company has worked with various stakeholders to grow its artists roster and have a number of success stories. With the rise of digital music sales and streaming AWAL has many opportunities to continue to grow and become one of the most popular online music aggravators.
Helienne Lindvall (2010) Behind the Music: Awal Keeps Digital Royalties from Going Awol [Online]. the Guardian. Available from: [Accessed 5 December 2020].
Music Business Worldwide (2012) Kobalt Acquires AWAL, Launches Label Services Division [Online]. Music Business Worldwide. Available from: [Accessed 5 December 2020].
Billboard (2020) Kobalt Boosts Its AWAL Brand With $150M Investment, Seeks 100 New Hires [Online]. Billboard. Available from: [Accessed 6 December 2020].
‌www.kobaltmusic.com (2020) Kobalt | Meet Kobalt [Online]. Kobaltmusic.com. Available from: [Accessed 6 December 2020].
Kobalt Music (2020) How It Works | AWAL [Online]. Awal.com. Available from: [Accessed 6 December 2020].
Billboard (2020) Tomorrow's Hits: MisterWives, Raskins & Kyle Dion [Online]. Billboard. Available from: [Accessed 6 December 2020].
Spotify (2020) Kim Petras [Online]. Spotify. Available from: [Accessed 6 December 2020].
Gaille, L. (2019) 16 Pros and Cons of a 360 Record Deal / Music Contract [Online]. Vittana.org. Available from: [Accessed 6 December 2020].
TUNECORE FACT SHEET (n.d.) [Online]. Available from: [Accessed 7 December 2020].
Bandcamp.com (2012) About | Bandcamp [Online]. Bandcamp.com. Available from: [Accessed 7 December 2020].
‌ Awal.com (2018) What We Look for in an AWAL Member [Online]. Awal.com. Available from: [Accessed 7 December 2020].
Wang, A. X. (2018) An Indie Music Expert Explains Why More Artists Are Skipping Labels [Online]. Rolling Stone. Available from: [Accessed 7 December 2020].
+         ‌ IFPI. (2019). Global Music Report THE INDUSTRY IN 2019 [Online]. London: IFPI. Available from <https://www.ifpi.org/wp-content/uploads/2020/07/Global_Music_Report-the_Industry_in_2019-en.pdf> [Accessed 5 November 2020]
Cite This Work
To export a reference to this article please select a referencing stye below:
Reference Copied to Clipboard.
Reference Copied to Clipboard.
Reference Copied to Clipboard.
Reference Copied to Clipboard.
Reference Copied to Clipboard.
Reference Copied to Clipboard.
Reference Copied to Clipboard.
DMCA / Removal Request
If you are the original writer of this essay and no longer wish to have your work published on UKEssays.com then please: