Financial Implications of an e-Commerce Solution
| | |
| --- | --- |
| ✅ Paper Type: Free Essay | ✅ Subject: Ecommerce |
| ✅ Wordcount: 1759 words | ✅ Published: 18th Aug 2017 |
Financial Implications of an e-Commerce solution associated to Computer Bits Ltd
Designing a website
When looking to develop an e-Commerce project, the primary focus is on developing an aesthetically pleasing and interactive for the consumer. Developing a website can be considered one of the main upfront costs that you will need to consider as part of the project. Other costs may not necessarily need to be paid upfront and can be considered as on going.
There are various options when it comes to developing themes for your website. You have the option of a pre-made one or a custom developed one. Benefits can be mentioned for both options:
Pre-developed templates- For a business that is on a tight budget, this will be the way to go as it is considered for cost effective. Usually, the maximum one would pay for this would be around £100. Furthermore, if time is of the essence, then this option will allow you to get online quickly and start selling faster.
Custom- This is considered costlier as the graphics needs to be developed and designed from scratch. Also, it can take longer to develop as more work is needed to be done. However, benefits include being able to add new features and it can be more tailored for your business and visually more appealing and interactive. Furthermore, it will allow you to create your own brand. This can be difficult when you have the same theme as lots of other businesses.
The costs incurred from both options will now be discussed for you to analyze. Shopify, a hosted platform, sells off the shelf pre-made themes for approximately £100-£120. An agency could set up the store on your behalf, this would typically cost approximately £1000 for a full store setup. For a more tailored and bespoke theme, you can expect to pay around £3000.
Magneto, a self-hosted platform, would also be able to cater for such a project, however, costs would soar to between £10,000 to in excess of £50,000 for complex sites. There are benefits to both and it all really depends on your personal circumstances. In my opinion, I would suggest the off-the-shelf them and a hosted platform.
Financial transactions
You will also need to factor in the costs of transactions via this medium. There are various gateways that facilitate financial transactions over an e-Commerce platform, but more often they will charge a small percentage of the total order value. Paypal will usually charge a fee of around 1.8%.
Hosting and Security
This, like the financial transactions costs, can be considered as a recurring cost. Typically, you can expect to pay a monthly fee and the proves vary from host to host. In many cases, security is included as part of the package. Shopify packages range between £10-£115 and you can expect to get between 1GB-unlimited storage. 34SP provide between 15GB to 82GB of storage space and you can expect to pay from £15 to £60. If you opt for an agency to provide this facility and support, then you can be expected to be around £300 per month and this can rise drastically to around £2500 a month for complex sites like Magneto.
Marketing
Without a strong marketing campaign and strategy, it will be difficult to make a success of the e-Commerce solution. In order to increase sales, you need people to visit your website. You will need generate traffic only via a successful marketing campaign. One method of marketing is to use Search Engine Optimization- Google AdWords and these will appear when someone searches for computer related words on Google search. You will only pay per click and you can normally expect to pay around £370 per month. It is a fantastic way of generating traffic and a highly recommended one.
Get Help With Your Essay
If you need assistance with writing your essay, our professional essay writing service is here to help!
Essay Writing Service
Advertising on social media is also a must, if you are to have a successful e-Commerce journey. Technically this is free, however, in most cases you will need to employ someone who can do this competently. The only other option would be to do it yourself or get a family member to do it on your behalf such as your son or daughter. If you opt to outsource this task to an agency, expect to pay between £1100-£2500 per month for Twitter and between £1400-£3000 for Facebook.
Another way you can promote your business is via Affiliate marketing. This method works by allowing other companies advertise your products and in return you give them a small percentage of the sales that you get as a result of their marketing for you.
Logistics
Upon implementation of the e-Commerce solution, you will start to generate sales from consumers who live nationally and internationally. Be able to fulfil these sales will mean that you shop around various parcel delivery companies and means you will have to start paying large amounts of postage fees. The fees will depend on the location, size and weight of the parcel.
Cost of re-training staff
Staff will need to be re-trained as to how to process orders via the website, via 3rd party sites such as Amazon and Ebay. In addition, you will need to train them to be able to deal will queries via e-mail and on line support. Staff will need to know of the new process and the restructuring could cost time and money.
Cost of a mobile app
There is also an option of developing a mobile app for Computer Bits Ltd. Selling via this medium can be beneficial, however, I feel as the cost of this would range between £15,000-£40,000, it is best not to pursue this for the time being.
Conclusion
In concluding, I feel there e-Commerce will bring for Computer Bits Ltd. With an increase in exposure, the company will see and increase in custom and sales. This will mean that there is more profit and consequently more market share. Your business will be able to source cheaper stock, better products, trade on a platform that looks to be the future of shopping, open 24 hours for trading, and be able trade globally via an array of platforms. The costs mentioned in this report simply outline the things that need to be considered, but in no means, should deter you from pushing ahead with a e-Commerce solution.
e-Commerce solution for Computer Bits Ltd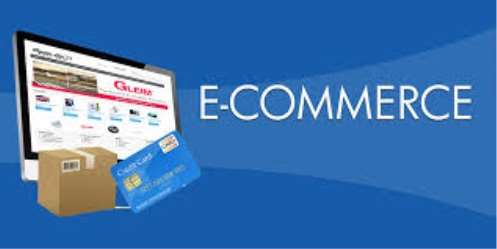 Report by Umar Usman Arif
Written for Mr Lukas
e-Commerce solution for Computer Bits Ltd
Objective
The objective of the e-Commerce solution is to increase sales, profit and market share of Computer Bits Ltd. The primary focus of the solution would be from a business to consumer market and the domain name that the website can be accessed on will be www.computer-bits.co.uk
Market Research
All of the research conducted is secondary in nature, as conducting primary will be baseless, expensive and time consuming. All of the competition will be online based and Computer Bits will need to compete against national and international companies.
Target Market
The market segment for Computer Bits Ltd is to target the average consumer and sell them computer components and peripherals. The products will be sourced from manufacturers and we will aim to resell these at discounted prices. Our competition will be other resellers who have an online presence. We plan to target everyday PC users and small business that fix and upgrade systems. Computer Bits market share will be less than 1% as the worldwide industry is huge and just the PC gaming hardware market was worth more an £30 billion, let alone the total worth of the components industry.
Key Processes
In order to maintain a successful e-Commerce solution, Computer Bits Ltd will need at least 3 different decent spec computer systems that will allow your employees to update stock, view orders, order more stock and send out correspondence to customers, suppliers and hosts. The systems will need to have good processors, 8gb RAM, SSD so the systems are fast and have a cloud account where you can save all your data and information. Anti-virus, spyware and malware software will be required to keep the systems secure from viruses and theft. Stock from manufacturers and suppliers will need to be kept up to date and distribution of orders can be done via Royal Mail, Hermes and DHL for international orders. The website and Ebay channel will need to maintained by staff.
e-Commerce and Security
The website will be hosted by Shopify and will used one of the off-the-shelf templates. I think it will be waste of money if we were to develop a custom one as this not really our aim. Our aim is to sell online, not to create a brand. Branding is more suited to companies that actually produce and manufacture their own products as opposed to resellers like Computer Bits Ltd. Payments from customers will be made via PayPal and Shopify, both debit and credit cards will be accepted methods of payment. 34SP will host the website and provide security as their packages offer better value for money in my opinion. They provide the website and our systems with security software that prevent hackers, viruses and allows payments to be taken via secure HTTPS. Only the website will be start-up costs, the rest will be working so capital to fund the system will be taken from the company accounts. Marketing will be done via Search Engine Optimisation and social media channels such as Twitter and Facebook. Furthermore, we will reach out to Affiliate partners such as Amazon, CostcCo and BestBuy.
Legislation
The company will need to get trained on and adhere to many legislations that relate to distance selling. Customers data will need to kept secure and confidential and Computer Bits will need to be aware of Data Protection Act 1998. The Consumer Credit Act 1974 and Trading Standards mean that consumers have a right to returns and refunds if they are not satisfied with their products. Also, all content on the website will need to adhere to copyright laws and all staff will need to be retrained.
Cite This Work
To export a reference to this article please select a referencing stye below:
Reference Copied to Clipboard.
Reference Copied to Clipboard.
Reference Copied to Clipboard.
Reference Copied to Clipboard.
Reference Copied to Clipboard.
Reference Copied to Clipboard.
Reference Copied to Clipboard.
DMCA / Removal Request
If you are the original writer of this essay and no longer wish to have your work published on UKEssays.com then please: